I was at the bookstore a few days ago, where I noticed that Ayaan Hirsi Ali came out with a new book called Nomad
. I read her book Infidel
, and I found it very interesting, I do not discount her experiences as a former Muslim, we all go through life like the blind men and the elephant, I my self had a few brushes with the KKK when I was in America, and if I had to base my experience on that, and only that, well… you know where I am getting at.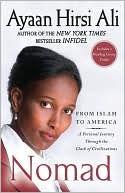 But I find her reverence by the western media a little over the top. I understand that she does this to get her protection extended by whoever is footing the bill for her to live surrounded by bodyguards and of course to live off what she makes from her books, I do not think that she (or anyone for that matter) should be killed for leaving Islam, Islamic history is full of stories of those who left Islam and nothing happened to them.
However, I do not like that she seems to paint Islam as absolutely bad, and Christianity as absolutely good, here is an interview with Tavis Smiley who, as a Christian, questions her (actually corners her) about that.
I am not saying that some terrorist are not Muslims, in fact, all terrorist are Muslims… except the 94% that aren't.
She did somehow, change her words, after her interview with Tavis, to "some, not all Muslims" but Stephen Colbert also makes a little fun of her admiration of Christianity (even though she says clearly she prefers others to Jesus) so it only makes me feel like she is trying to appeal to the majority of people in the western world.
I might flip through the pages next time I see the book, but at the moment it is not on my list of books to read (not a very impressive list I know, but I do/did not update it often).
Comments
comments
Powered by Facebook Comments